This feature allows you to share a selected window or application while simultaneously working/viewing presentation notes and other content on your computer. You can also use Airtame to extend your desktop from a Windows or macOS computer using our Miracast and Airplay functionalities. You can learn more about this in our article on how to Extend your screen with Airtame.
1. Use Single Window Sharing
Open the Airtame app.

Hover the mouse over the desired Airtame and select "Share window".

Click on the desired window to start sharing.

To present the window to more Airtame devices, go back to the app and click "+ Add screen".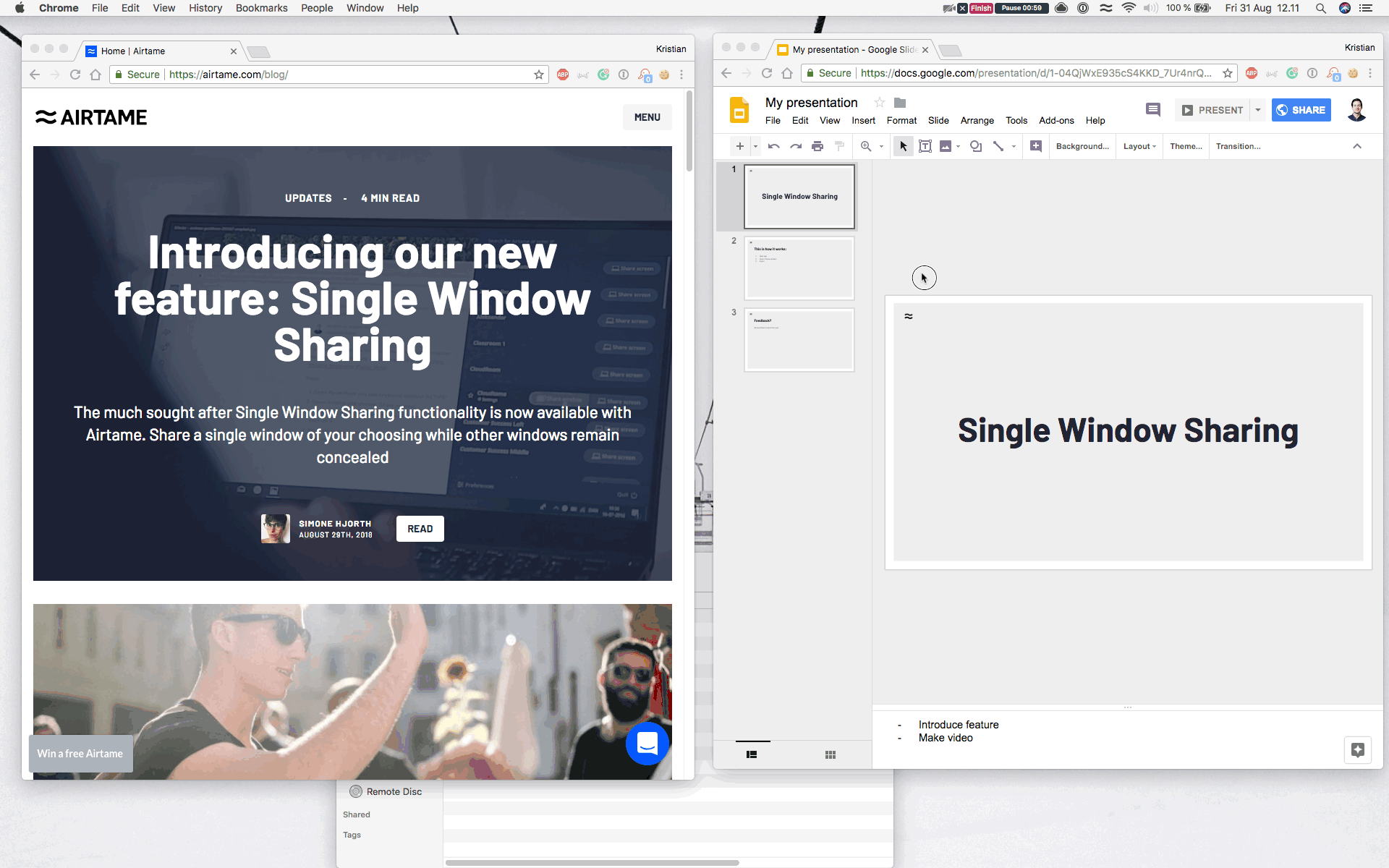 2. Use Airtame for Presenter mode
With Single Window Sharing, you now have the option to use "Presenter mode" for certain services and devices. This can be useful when you want to view your presenter notes in private on your own computer screen and your presentation slides on the Airtame-equipped screen. Learn more about How to use Presenter mode.
3. Other services currently not supported
This feature will not work on Keynote or PowerPoint for macOS devices. As an alternative solution to having Presenter mode when using macOS, we suggest enabling Airplay to extend the screen. To use Single Window Sharing with Windows 7, please enable this feature with the application preferences: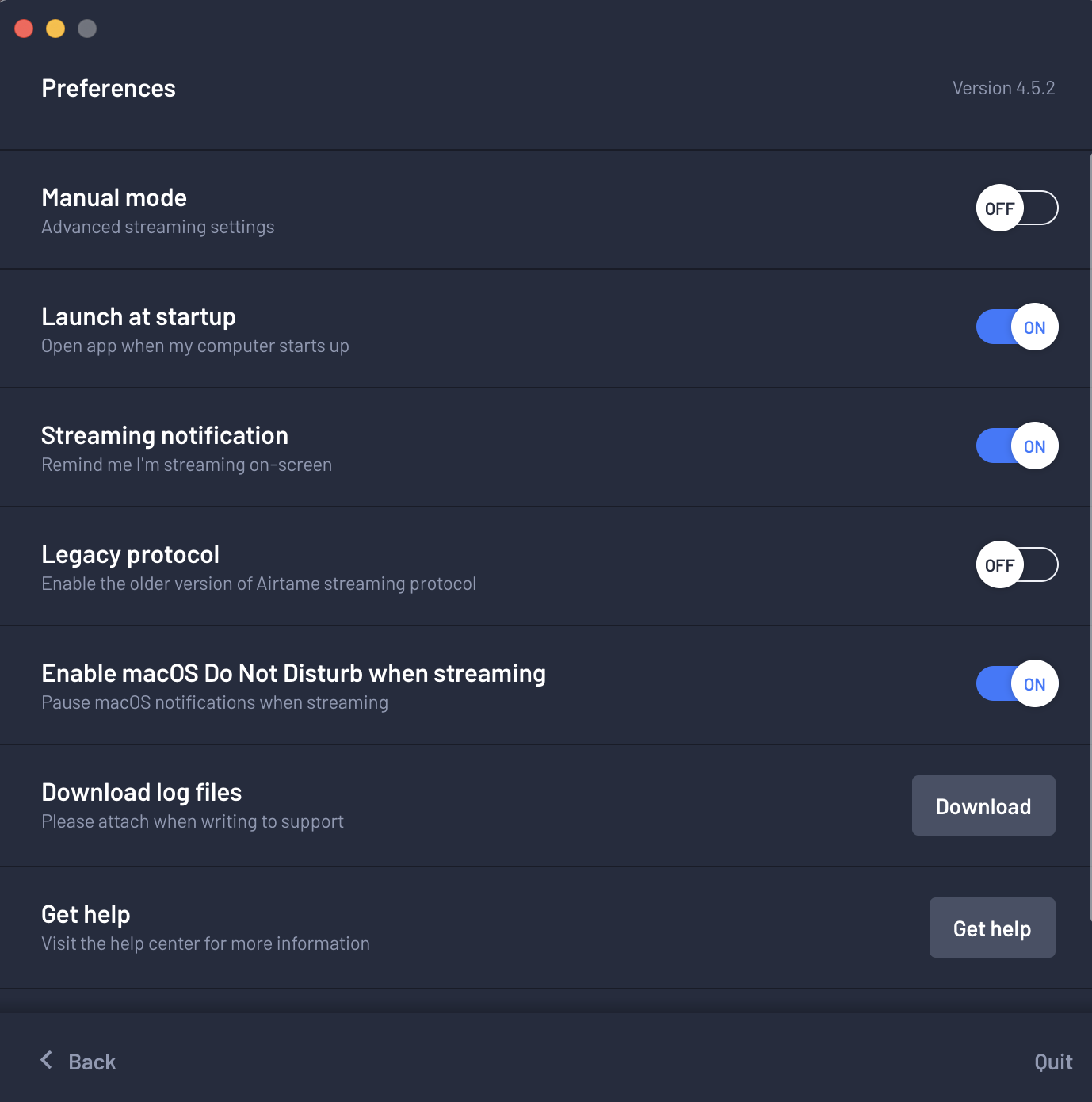 4. Known limitations
When sharing with Single Window Sharing, no mouse cursor will be shown on the display, only the user's own machine. We are looking to add this as a future feature.
System audio instead of Window Audio
When streaming audio (by selecting the dedicated icon in the app panel) and using the "Single window" option, the full system audio will play through the TV or projector's speakers, not just the audio output of the chosen window/application.
Certain windows cannot be shared
There are certain windows that cannot be shared with Single Window Sharing on Windows due to security reasons (e.g. the Task Manager). When choosing a single window to share, those windows will have a red overlay and a stop icon to indicate that it is not possible to select them.
Issues making "single streamed" window fullscreen
There are many ways in which apps can make their windows fullscreen. Not all work with single window sharing, unfortunately. For example, sharing a Safari window with an embedded YouTube video will work, but when the YouTube videos made full screen, it will open up a new (fullscreen) window. However, Single Window Sharing will still stream the old window, which is blurred for the duration of the other fullscreen.
Minimized or hidden windows can't be streamed
While sharing a single window, if the window gets minimized, it cannot be streamed anymore. On macOS, the same behavior happens if the window is hidden (Cmd+H).
SWS may malfunction on Windows 7
This is a problem on some Windows 7 machines — a single window will be streamed, but if another window overlaps it, that window will be streamed as well.
5. For macOS specific
On macOS, there's a window shaking when changing desktops
When sharing a single window on macOS and changing between desktops by swiping between the desktops, the window streamed will be shaking.
On macOS the window is "paused" if not visible while in full-screen
When sharing a single window on macOS, and then maximizing another window to go in full-screen mode, the window that is streamed might be put on pause by the system, so it will not be streamed. For example, if you try to stream a browser video, and then go in full-screen with your word editor, because the browser is not visible anymore, it cannot be streamed.
On macOS, the top part of a full-screen window is sometimes suggested for screen sharing separately
We are aware of this issue and are currently working on a solution.
MacOS performance is limited when single-window sharing compared to full mirroring
The way that macOS captures and compresses the image is not as efficient when using the single window capture module, meaning that the CPU of the laptop is under a heavier load with SWS. This will cause the video to potentially be less smooth and for the battery to drain faster when Single Window Sharing on a Mac, compared to simple sharing.