How to stream from a Chromebook
1. Get the Chromebook app from the Chrome Web Store:

2. Install and open the Airtame app.
3. Find your Airtame on the list or by using the search field.
4. Press on Share screen or Share tab.
5. To stream with audio, click the audio icon.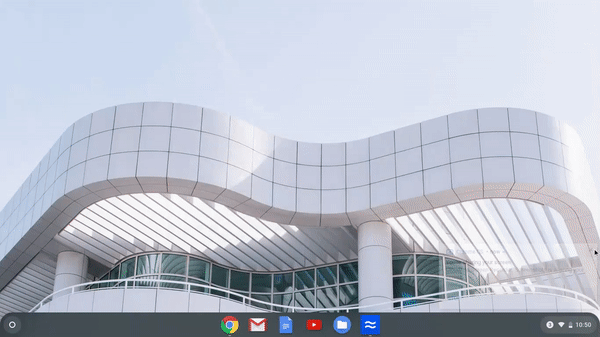 Note that The Chromebook app does not allow you to set up a device. This must be done using a Windows or macOS computer.
We have received notice that the Chrome OS firewall extension IBoss blocks the ability to stream to Airtame on Chrome OS. This is likely true for other firewall extensions.
Performance considerations
Some cheaper Chromebooks don't have a dedicated chip that does hardware encoding, which is vital for a smooth streaming experience. Users with these Chromebooks will, therefore, experience poor video streaming performance. We support Intel-based chips i3, i5, i7, m3, m5, m7 or newer Celeron/Pentium or Atom-based chipsets
Please note that "Intel Quick Sync Video" is a required feature for Chromebook devices.
High-end: On high-end computers (like Dell Chromebook 13 - 7310), you can expect a smooth stream at 30 FPS (frames per second) with high quality (Assuming that your network can support the bandwidth)
Low-end: For lower-end computers (those that fall below our system requirements) you should not expect the same quality. For a video stream, you can expect 16-17 FPS with lower quality. For static images or presentations, you can expect 20 FPS with medium quality
ARM: Chromebooks that use an ARM processor will be able to run the Airtame Application. Performance might be not as good as with higher-end Chromebooks.
Currently not supported
The Airtame Chrome App is only compatible with Chromebooks and ChromeOS. It will not work on Windows / Mac devices running the Chrome browser. Airtame 1 is not compatible with our Airtame Chromebook Application versions 5.0.0 or higher. Please reference this article for instructions on how to access our Legacy Chromebook Application.
Feedback
We're constantly growing and evolving how Airtame performs with different platforms, and we want to hear from you to ensure we're building the product that works for your needs. Do you use Chromebooks in your institution? Tell us about how you plan to use it by writing to support@airtame.com