To learn how to stream to Airtime, take a look at our quick instructional videos about Presenting with Airtame.
1. Airtame app overview
Streaming your computer screen works the same on Windows, macOS, and Linux. Simply follow the on-screen instructions:
Connect to the same WiFi as Airtame (Shown on the TV or Projector).
Find the screen's name, or type its IP address shown on the Airtame home screen.
Select Share screen or Share Window.
To add sound, click on the speaker icon in the app.
2. Additional options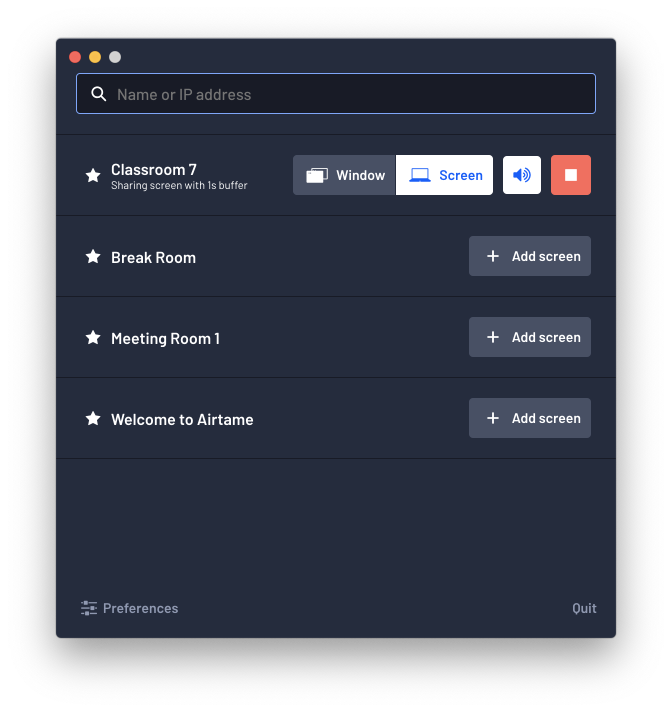 To stream with audio, click on the speaker icon to add sound. This will enable audio and increase the stream quality, while adding a 1-second buffer to ensure smooth playback. Having issues streaming with sound? You can find more info here: Troubleshooting sound
Select between presenting the entire screen or a selected window:
If you want to learn more about this feature, check out this article: Single Window Sharing
When streaming, a window like the below will show on your screen to remind you that you are streaming, while letting you control the ongoing stream:
The window can be moved around on the screen or minimized. You can also enable or disable it by going to the app settings.
This feature ensures that only users in the room watching the screen can connect and start streaming.
When enabled, the Airtame app will ask for a 4-digit code that is shown on the Airtame home screen. A new code is generated each time. Note that you can enable Pin code to connect through the Airtame's advanced settings.
If you ever get disconnected, the Airtame app will try to automatically reconnect your stream for the next 10 seconds. If you don't want to connect the stream again, click the Stop button to cancel the reconnect.