Airtame periodically receives product improvements and new features through software and firmware updates. By default, your device and app will update automatically but can be switched off if you prefer to manually update via either the device settings or Airtame Cloud.
To check for updates, keep reading for steps to update the firmware (on the Airtame device) and software (on your computer).

Note that before updating your Airtame Software of Firmware, you can check the latest changelog here.
1. Firmware updates
Firmware updates can be prompted from within the Airtame app or from Airtame Cloud.
From the App:
Open Airtame settings.

If an update is available, you will see an update button at the bottom of the window.

Click on "Update" to get the latest firmware version.
Automatic updates can be disabled in the settings.
From the Cloud:
Open your Airtame Cloud account.

If an update is available, you will see a blue icon next to the device.

Select the device.

Click on "Update" to get the latest firmware version.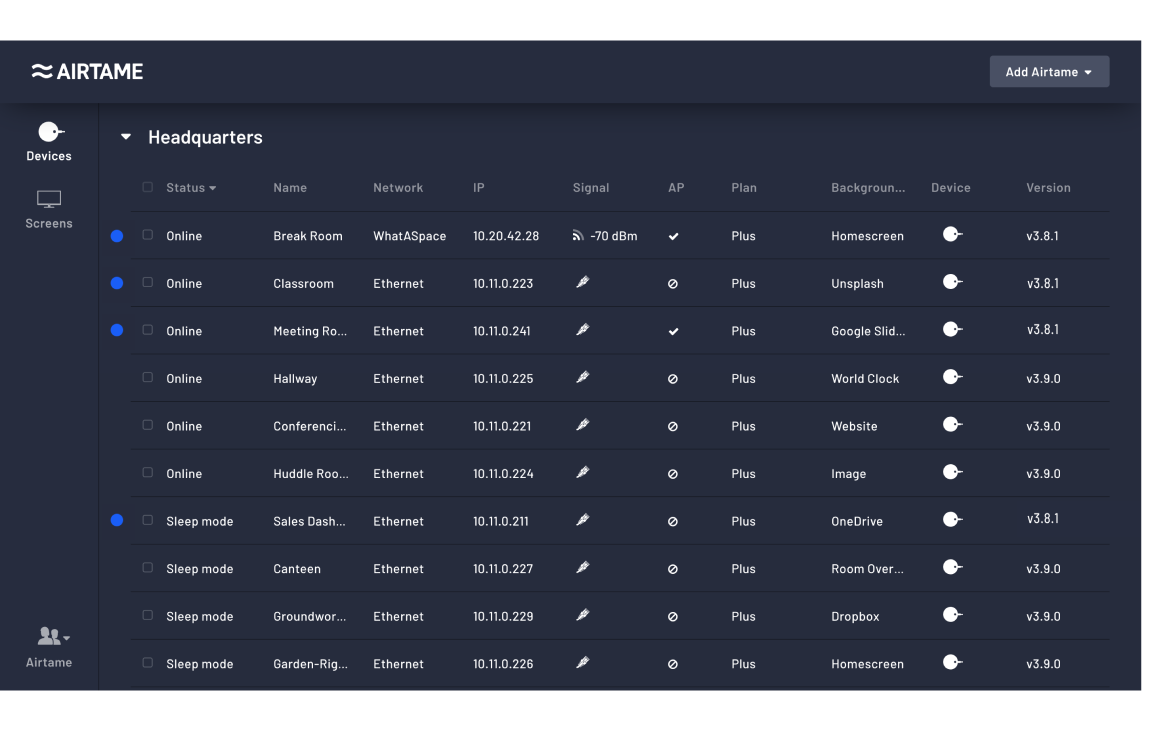 Open Airtame settings

Press "Show advanced settings"

Go to the tab "Update channel"

Choose the "Beta" channel

Press "Apply changes & update"
Troubleshooting update issues:
It can take around 2-8 minutes for Airtame 2 and up to 30-60 minutes for Airtame 1 to complete an update.

Your firewall may be blocking the installer since it comes as a .tar.gz file. This can be seen on Sonic Firewalls.

Make sure repos.airtame.com is accessible or whitelisted via your network/firewall. Bear in mind that whitelisting the IP address may not work long-term, as downloads could come from any global mirror.

If the update is stuck at the same percentage for more than 30 minutes, unplug the device and try again.

Updates happen over HTTP (TCP port 80) - ensure that this port is available on your network.

Use a power adapter instead of your display's USB port.

Connect the device to a less restricted network, like a home network, to update.
2. Airtame App Software updates
The Airtame app checks for software updates regularly. If an update is available, you will see a bar at the top of the app. Simply click on the "Update" button, and the application will restart and install the new update. Otherwise, the new update will install automatically upon the next application or system restart.
You can also download and install the latest version from airtame.com/download.
If your firewall is blocking the download of the software, you may have to whitelist downloads.airtame.com going over port 80.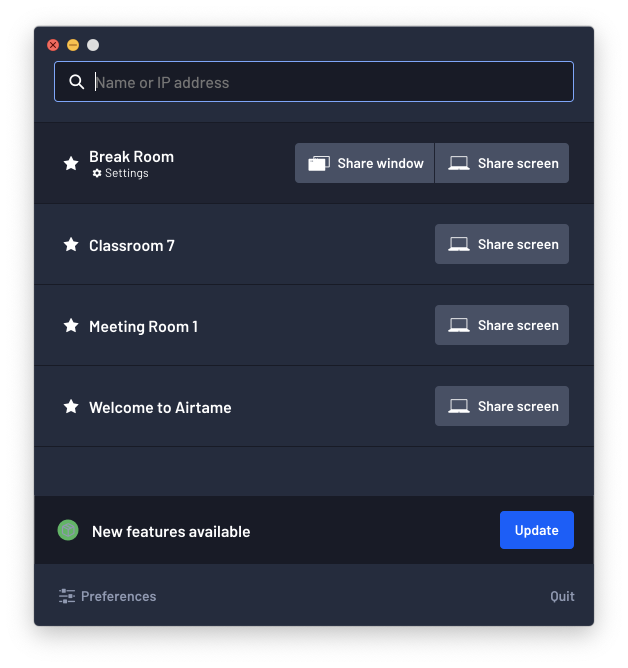 Learn more