What is Scheduled Content?
With firmware version 4.2.0 and above for Airtame 2, you can schedule digital signage according to specific times of day and days of the week. Scheduled Content provides an easy way to plan communication across your organization or school.
When you use both Looped Content (also called Playlists) and Scheduled Content, the latter overrides the former during the scheduled timeframe.
Requirements
Set up:
Log on to your Airtame Cloud account.
Navigate to the Screens

tab.

Select the Screen(s) that you want to set a schedule for and click Edit settings

.

Click on Add

to start a schedule.

Once finished, click on Apply changes.

You can always go back in and edit the schedule if any plans change. Click Remove to delete an app from your schedule.
Scheduled Content becomes Scheduled Playlist
To previously run multiple apps on Schedule, apps had to be added one at a time and time configured back to back.
Now, you can add as many apps as you want to scheduled playlists. Define the duration for every app in the schedule and rearrange the priority using drag-and-drop.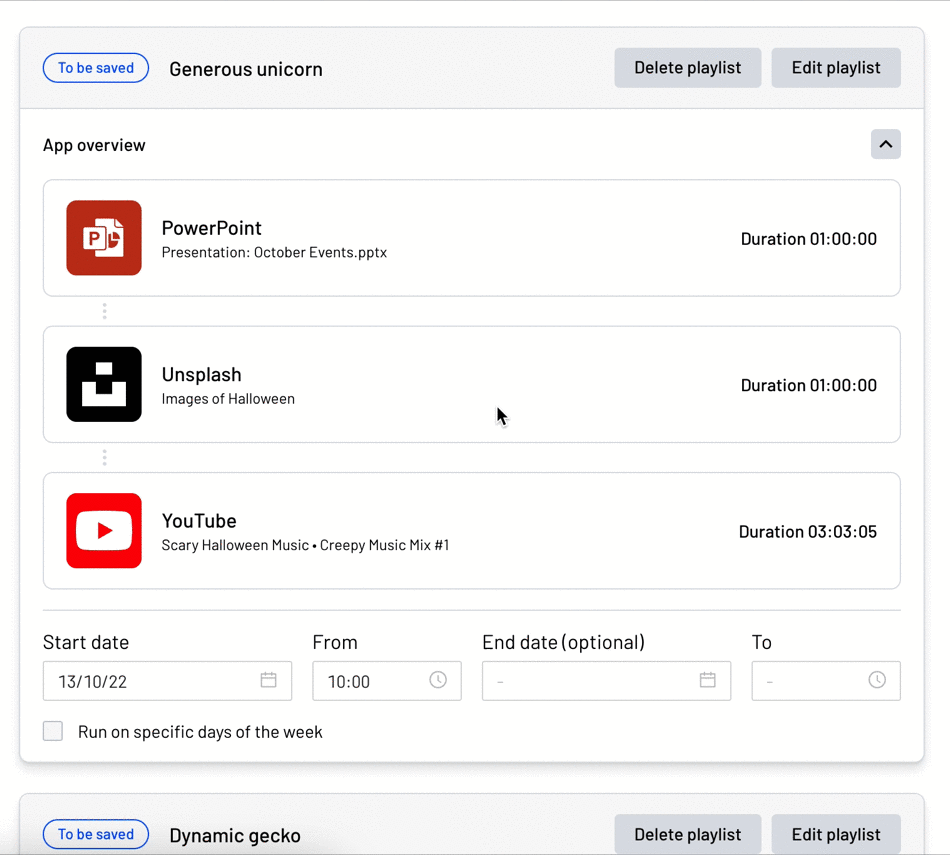 Schedule signage for events in advance
Schedule by date allows the configuring of digital signage campaigns and events in the future, such as:
Employee birthdays and anniversaries
Welcome messages for guests or new team members
Images, slideshows, and videos to celebrate holidays, such as Christmas, or Halloween
Simply create a new playlist for every event, and set a start date and time. Your playlist will show up on the screen on the day you've specified.
Here is an example of a Scheduled Playlist configured to start playing on Friday evening:
You can also combine 2 scheduling options: Schedule by date and Repeat on days of the week.
The start date can be set up to 90 days ahead.
Set playlists to disappear automatically
For short-term content, Airtame Cloud now allows you to define when content should no longer be shown. If you want the playlist to automatically disappear, configure the End date option.
Easily distinguish between different playlists
Playlists now have names. Edit the name if you want to make it easier to understand what's inside the playlist.
Copy Digital Signage from another device
To make the deployment of digital signage content easier, you can copy the digital signage configuration from one Airtame device to another. By clicking on the drop-down menu, you can choose one of the devices on the list or you can use the search function to search for a specific Airtame device.