Monitor and manage all Airtame devices from a single place and perform bulk edits like updating and rebooting.

Create groups and set user permissions to organize and restrict access.
Learn how Hult International Business School uses Airtame Cloud to manage their fleet of Airtame devices:
Devices - Monitoring and Management
Monitor all your Airtame devices
Status for each device (Online, offline, streaming).

View Network connection status (SSID or Ethernet) and RSSI.

Check Access point status - enabled/disabled.

Check the Airtame firmware version.

Create groups of devices. Expand, collapse, and rearrange the groups.

Use the search field to find specific Airtame devices.
Manage settings and perform actions individually or in bulk
Perform a Reboot or Update.

Manage all your Airtame settings and perform bulk changes.

Configure a Sleep Schedule for your Airtame through the device settings.

Screen Orientation Set the orientation of your screen to landscape or portrait mode.

Customize Overlay settings such as text, placement, and color.
Screens - Airtame for Digital Signage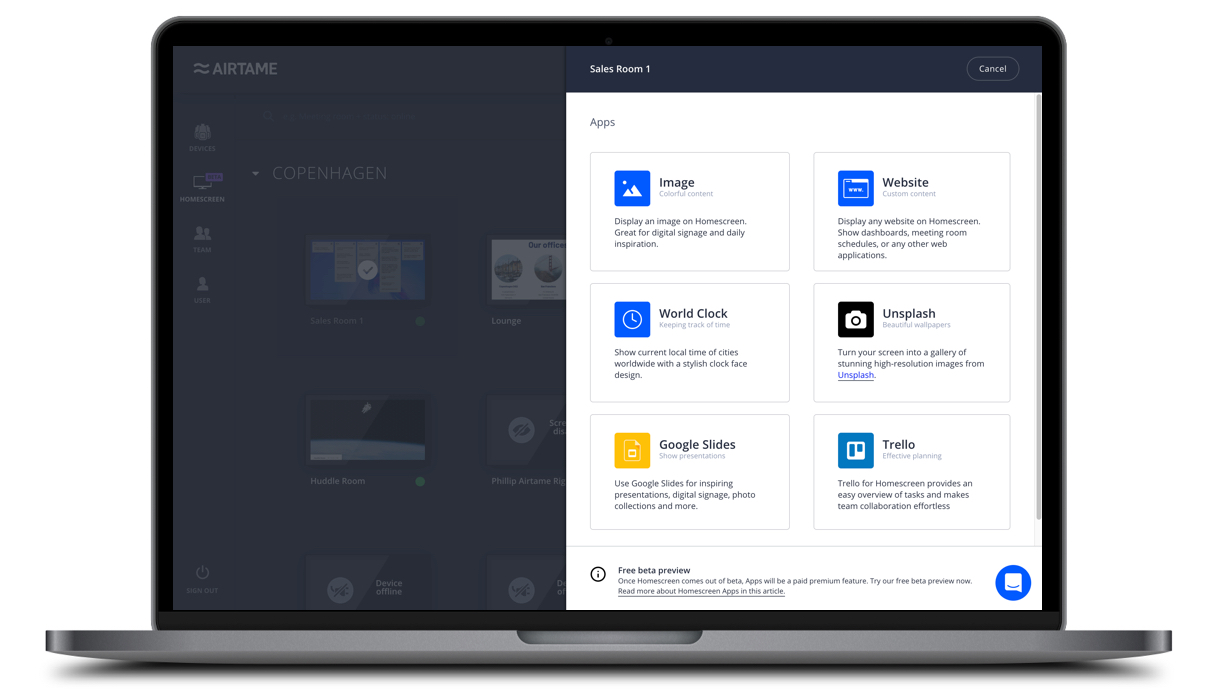 Screenshots: With an active Cloud Plus license, get a visual overview of your Airtames status and what they are showing on their screen background. (Does not show what content people are streaming)

Copy the digital signage configuration from one Airtame device to another. Makes the deployment of digital signage content much faster and easier.

Make use of App integrations. Get an overview of all available integrations here: Airtame Cloud Apps
Managing your account
Sort Airtame devices in groups.

Set user permissions and roles(Owner, Administrator, Content manager, Device and content manager, Moderator).

Edit user roles, remove people, change ownership.
Requirements
Some network requirements are needed for your Airtame devices to work with the Airtame Cloud:
Your Airtame devices must have internet access. Port: 443

Your Airtame devices must be able to synchronize their time with either your NTP server or external NTP servers. Port: 123

Your network must allow communication with servers in Germany since airtame.cloud is hosted on AWS in Germany.
Current limitations
Airtame's background web browser cannot show all website content. Airtame currently does not support:


Java, Flash, Silverlight, WebGL

Sites that require login with a username and password (due to lack of ways to provide input).