Understanding and making productive use of your data is essential to your business. To make your life easier, we've split them into KPI dashboards, Social Walls, and Productivity and Visual Management dashboards, according to their focus.
According to your industry, you can select the right KPIs in order to evaluate your success at reaching targets and key business objectives. Once you're done selecting your key business metrics, you will want to track these KPIs using a real-time reporting tool. KPI tracking can be done using dashboard software, giving a full overview of your current performance to your entire organization.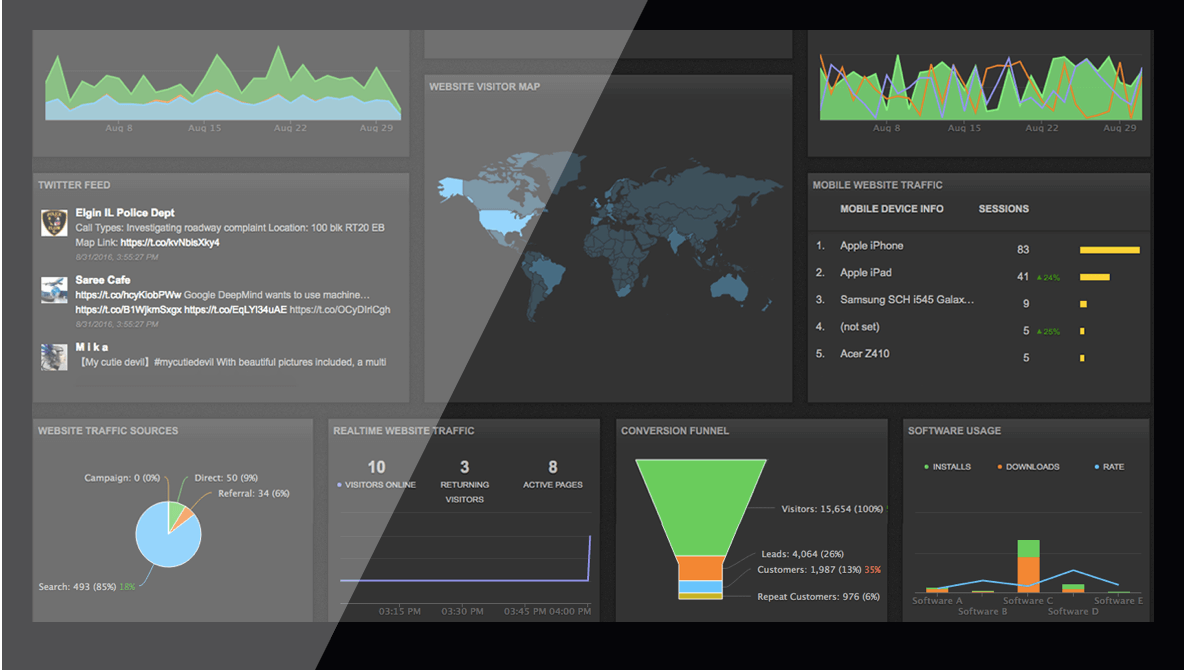 Klipfolio - Used by more than 10,000 companies, and integrating data from Dropbox, Marketo, Moz, and so forth, our partner, Klipfolio makes sure that your web analytics, sales and finances, and project management goals are transparent throughout your company.
Cyfe - An all-in-one business dashboard app, Cyfe's goal is to help you make better business decisions by bringing all of your business performance data under one roof. However, to benefit from its full potential, you would have to sign up for a Premium account.
Plecto - With varied integrations, such as Zendesk, Pipedrive, Podio, leaderboards and custom recognition features, Plecto will drive your team's motivation sky high. If sales are your main focus, Plecto is what you're looking for.
Please note that for using Plecto with Airtame you can reach out to them directly at support@plecto.com and ask for them to whitelist the IP address. This way no login will be required.
StatSilk - You can gain immediate insight into your data by automatically transforming your spreadsheets and databases into interactive dashboards. Visualize your data within minutes using StatPlanet Cloud - no tinkering required. In short: nice and clean.
Datapine - Small, medium, large companies - it doesn't matter. Datapine can provide you with accurate KPIs in the most professional way, be it management, finance, sales, or marketing-related. The demos of their service can be booked easily, giving you the opportunity to understand their product in no time.
Axosoft - Monitor your workflow, connect to an ever-growing list of tools and services, and make sure that all relevant stakeholders in your projects get the essential details with Axosoft. I would also add that these dashboards load very fast, so you won't have to worry about delays in your content.
Zoho - Boosting your sales, managing daily activities, or stepping up your productivity game - Zoho has helped business professionals take care of all these for more than a decade. If I were looking for a very complex software provider, I would most likely choose Zoho.
Dundas - A business solution that is able to monitor data from a wide range of industries. From banking and finance, education, government to pharmaceutical transport and logistics, retail, and so on. With more than 20 years of experience on the market, Dundas has dedicated over 7 of them to their dashboard project development.
DashThis - Be it SEO, SEM, PPC, or social media, DashThis has got your back. It automatically gathers all your client data into one dashboard report. If you are a digital agency, DashThis dashboards might be just what you're looking for. But feel free to check their demo video here and read more about their features.
Databox - You can choose from their library of pre-made templates, or create your own dashboard using their drag and drop editor, and get yourself real-time visualizations of your data in minutes.
Geckoboard - They also make your KPIs highly visible and easy-to-understand with a live TV dashboard meaning that everyone knows where to focus their work at all times and can monitor real-time progress towards business goals effortlessly.
Freeboard - It helps you build real-time, interactive dashboards and visualizations in minutes using their intuitive drag & drop interface.
Presumably, you want to track your social media lifespan or organize a kick-ass event. Social walls can help you stay on the pulse of your social media community. These are some suggestions that could be just what your organization needs: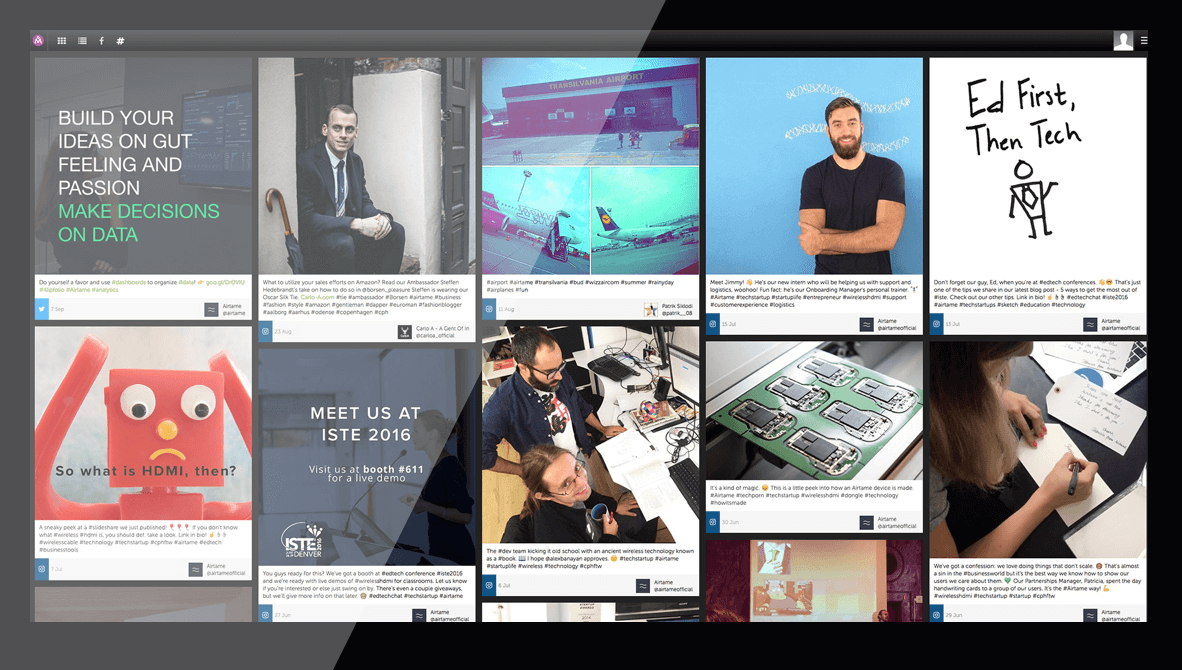 Sparkle - Easily discovers and grabs content from different social networks. Sparkle allows you to either customize your dashboards or use their out-of-the-box templates to seamlessly match your brand. Drive engagement, increase reach and prolong content lifetime!
Strea.ma - Keeps track of your social media activity for all your events and conferences. Strea.ma brings all of them into one easy-to-use display so that everyone can see your tailored stream of content unfolding in real-time.
Miappi - Miappi helps you create a Social Wall that lets you maximize the reach of existing social media content by adding any feed from Facebook, Twitter, Instagram, YouTube, Vine, Tumblr, Pinterest, Spotify, and SoundCloud.
Productivity & Visual Management
Suppose you are only looking to create and share your slide decks. Or maybe you want to focus on showcasing your team's productivity and projects overview. Or you simply want to be aware of when and where can you schedule the next meeting within the premises of your office. Here are some no-frills options that work great: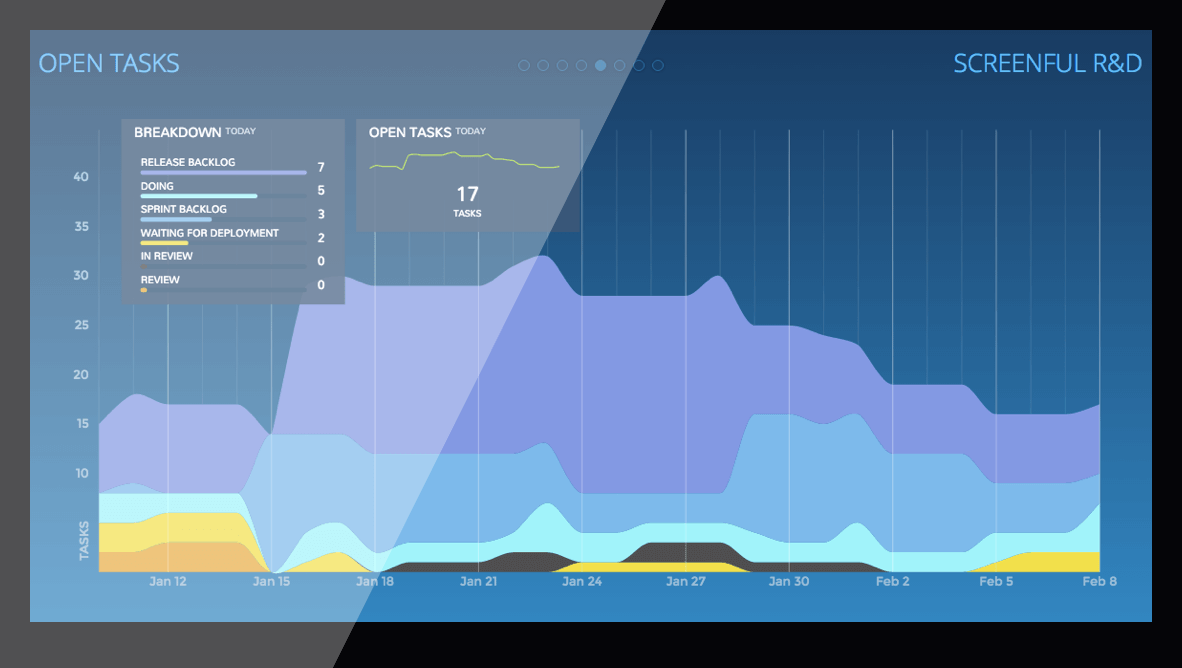 AskCody* (meeting rooms service) - AskCody gives you a full overview of what goes on at your office, when and where are your meetings scheduled, and is linked to your Outlook or Google Calendar.
Screenful* - Screenful is the easiest way to visualize and share your project progress using data from your existing tools. You can get a quick overview of your team's status on your smartphone or tablet and maximize the effect by installing a large visible display.
Plotly - Incredibly user-friendly features and very intuitive dashboards. Not to mention the sharp design of their live graphs. Sometimes, it can take a while to load, but it's worth the wait.
Visme - It helps you engage your audience with powerful visual stories and create stunning presentations, infographics, and other visual content in minutes.
PingFlow - This is the solution for the display and visualization of your performances instantly and collaboratively with your team on large screens, also called wallboards.
Google Slides - If you're looking for an easy way to turn your TV into an info screen, Google Slides and Airtame is an easy digital signage solution you might not have thought of. Whether you need to display the lunch menu, the agenda from Monday's product meeting, or you want to share pictures from the Christmas party, we've got you covered.
Trello - Trello has everything you need to organize projects of any size by making the most out of a list of lists, filled with cards. You can drag and drop people to cards to divvy up tasks. Everyone sees the same board and the whole picture all at once and you can even start discussions, add comments or attachments.
ArtPlayer* - Not every company has a dedicated art budget to invest in museum-quality pieces. The good news is there are alternative ideas and new technologies supporting cost-effective art that smart companies are using to enhance office spaces such as ArtPlayer. ArtPlayer is a TV streaming and digital signage art service that decorates and creates ambiance, which makes it ideal for workplaces. It works on PC, tablet or mobile, but can easily be integrated into your own info screen and digital signage system as a screen feed.
If you want to become our partner or know a service that works well with Airtame? Or have any general questions, feel free to start a chat conversation with us.