Setting up a sleep schedule for your Airtame screen allows the screen to automatically turn off based on a weekly schedule or a delay since the last screen sharing sessions or call. turning the screen off when not in used can help save power and make the screen last longer.
The sleep schedule is typically used to automatically turn off the screen outside normal working hours, where no users are expected to see the screen at all. This feature can also be used in more specialized cases, like as an ingest for a Microsoft Teams Room or part of a greater AV setup, where the Airtame screen should not show anything, unless a screen sharing session or call is running.
How Sleep Schedule Works
The sleep schedule works as a combination of two different actions over the HDMI connection to the screen.
Firstly sleep schedule uses CEC, which are a common protocol for controlling electronics over HDMI. Any CEC support screen while simply get the instruction from the Airtame device to turn on and off as the right time.
Click here to read more about Airtame and CEC
Secondly Airtame will cut off the HDMI signal when attempting to turn off the screen. Some screens may have a "Power Save" mode which will automatically turn off the screen once it no longer receives a signal from the HDMI port.
Although CEC is not a common feature in most moderns screens, we always recommend you verify the sleep schedule works as expected on your screen, and adjust and power settings on the screen itself to match the desired behavior.
Note: Even though an Airtame device is sleeping, it is still possible to screen share and start a call on the device. Doing so will turn on the TV automatically and keep it on for the entire session. If you end the stream, and you are still within the hours of the Sleep Schedule, the device will wait 10 minutes and then go back to the Sleep Schedule by cutting off the HDMI signal.

A short press on the LED button on Airtame Hub or the reset button on Airtame 2 will also wake up an Airtame device from sleep for 10 minutes.

How to configure Sleep Schedule
Log into your Airtame Cloud account.
Select the device(s) you wish to configure.
Click on the Edit settings button.
Click the Schedules menu.
Enable the Sleep schedule toggle.
Select the logic for when to make the Airtame screen go to sleep.

Turn screen off - Set a weekly schedule for when the screen should go to sleep.
When not in use - Select delay before turning the screen off.

Configure the settings for the selected logic.
Click the Save button.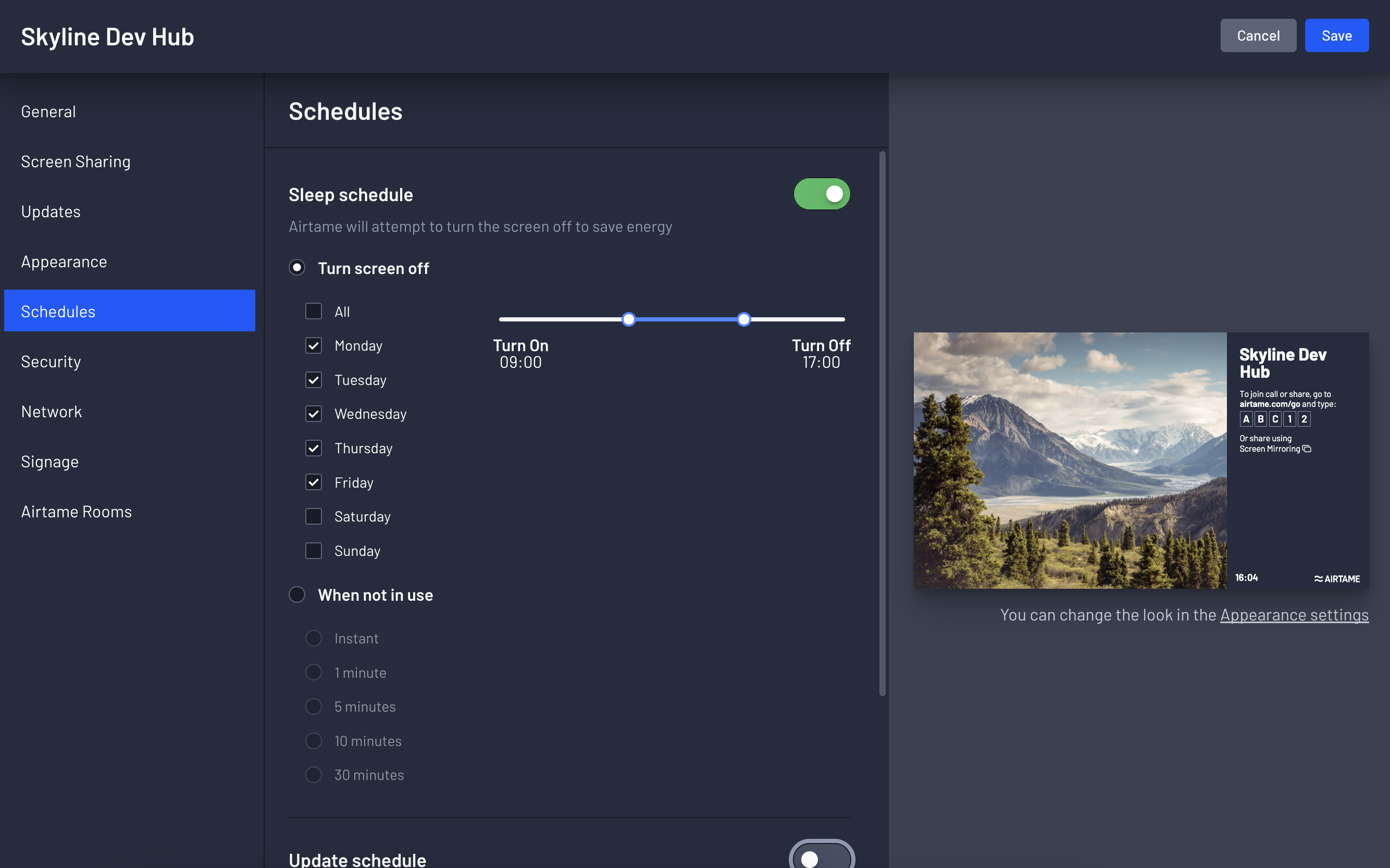 An Airtame screen which will be turned off between 5:00 PM and 9:00 AM on weekdays, and the whole weekend.