The benefits of using the Airtame PoE Adapter
Airtame offers the Airtame PoE Adapter - a Power over Ethernet to USB accessory that provides DC 5V and Ethernet connection via USB to the Airtame 2, allowing clean setup, and reliability. The Airtame PoE Adapter and Airtame 2 Aircord serve three purposes. In addition to supplying Power (1) and Ethernet connection (2), the single cable connects the Airtame to the HDMI port on your display (3). Click here to download the technical specifications of the Airtame PoE adapter.
Deployment of Airtame with Airtame PoE Adapter
When deploying Airtame 2 devices with PoE, consider the source of power for the PoE. Not all Ethernet ports or switches support PoE.

You will need to use PoE Access Switches or PoE Injectors to provide both power and network connection.

The PoE equipment must be compliant with the IEEE PoE standards.

The Airtame PoE Adapter supports PoE Type 1, PoE Type 2 ("PoE+"), PoE Type 3, and PoE Type 4 (as long as they follow IEEE standards). Check the table below to check if your equipment qualifies: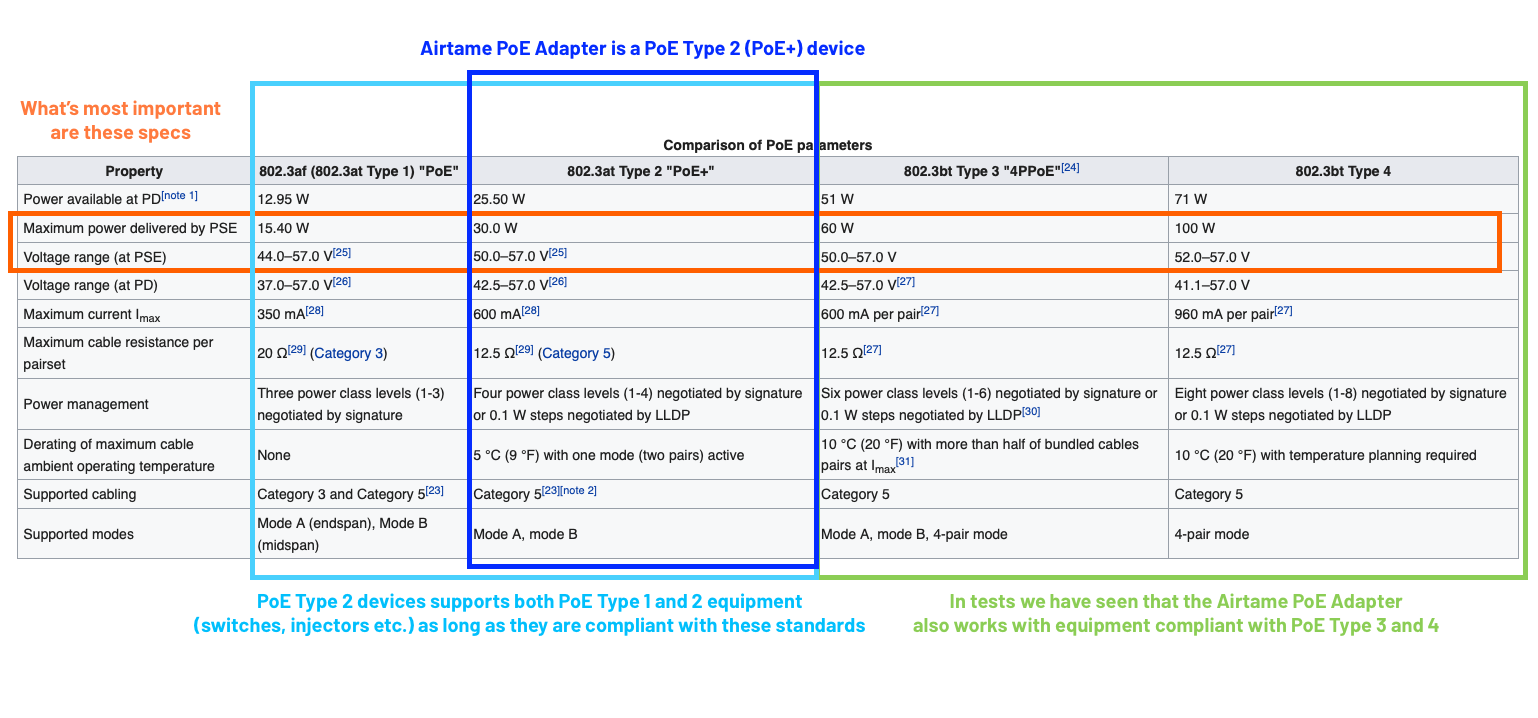 Table source: Wikipedia
Setting up Airtame with Airtame PoE Adapter
The setup in the guide below is intended for a new device. If you have already connected your Airtame 2 to the same network via WiFi, we recommend either resetting your device or disconnecting this WiFi after the setup.
(Optional) Reset Airtame 2.

Connect the Airtame PoE adapter to the Airtame device, as well as your PoE injector/access switch, and wait for an IP address to be shown on the screen.

If no IP address displays on screen, you may need to allow Airtame onto your network, check that the Ethernet port on your switch is mapped to a VLAN, and that it is PoE enabled. For continuing issues, please email support@airtame.com.

Open the Airtame application.

Select "Set Up" from the green banner at the top of the application.

Follow the steps (also available in the GIF image below).

Test streaming by opening the app and clicking "Share screen" or entering the IP address.

If successful, consider password-protecting Airtame's own WiFi APs, or connecting the remaining antenna to your guest WiFi through the device settings.
To include instructions on the overlay background, check out our article on how to edit Airtame's overlay text.
Keep in mind that Airtame PoE Adapter has a different MAC address than our Ethernet adapter - this may need to be whitelisted separately so that Airtame 2 can join the network.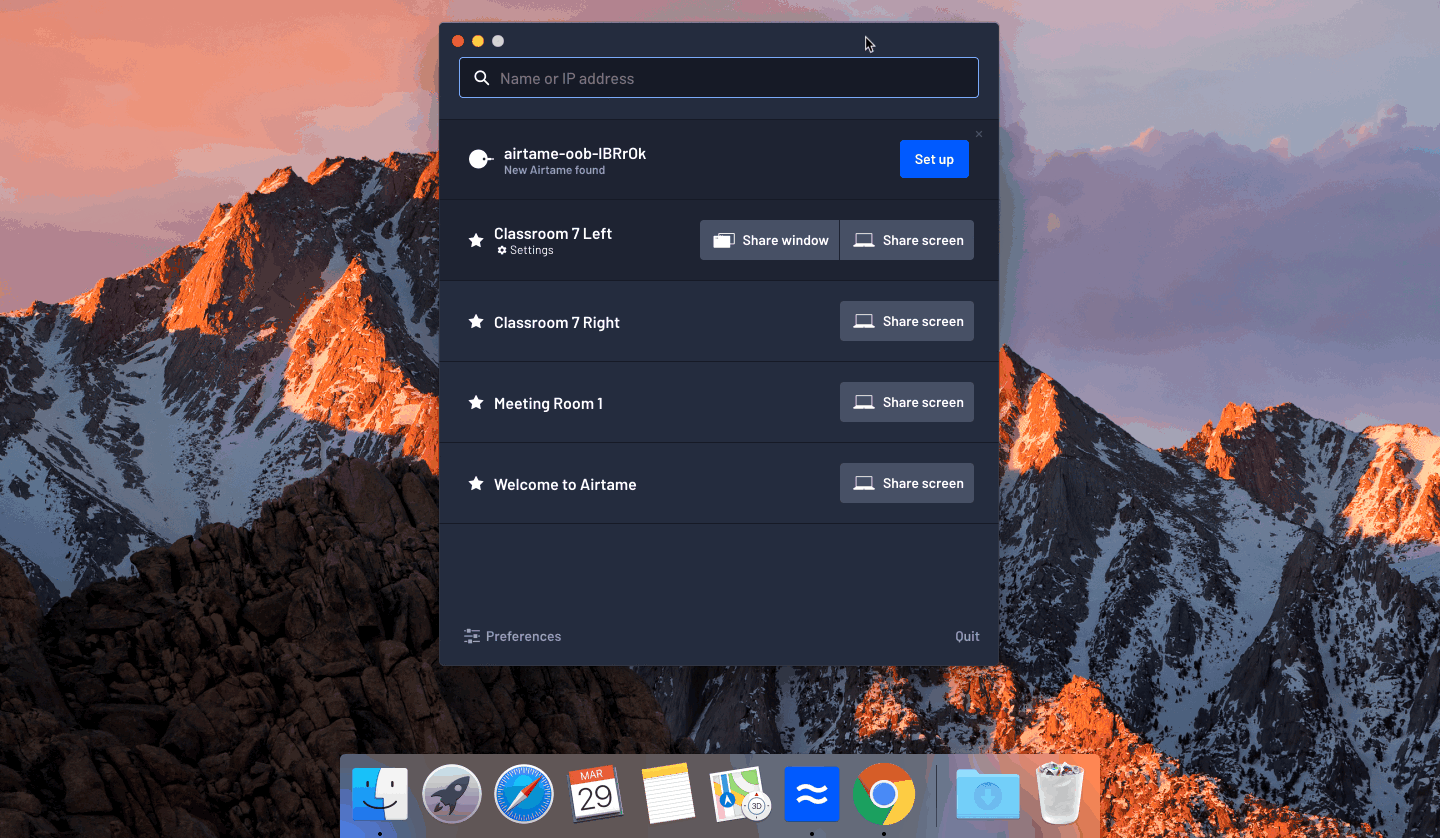 Adding a Guest WiFi
Using a wired (PoE) connection, you have the ability to add a second network via WiFi. To do this: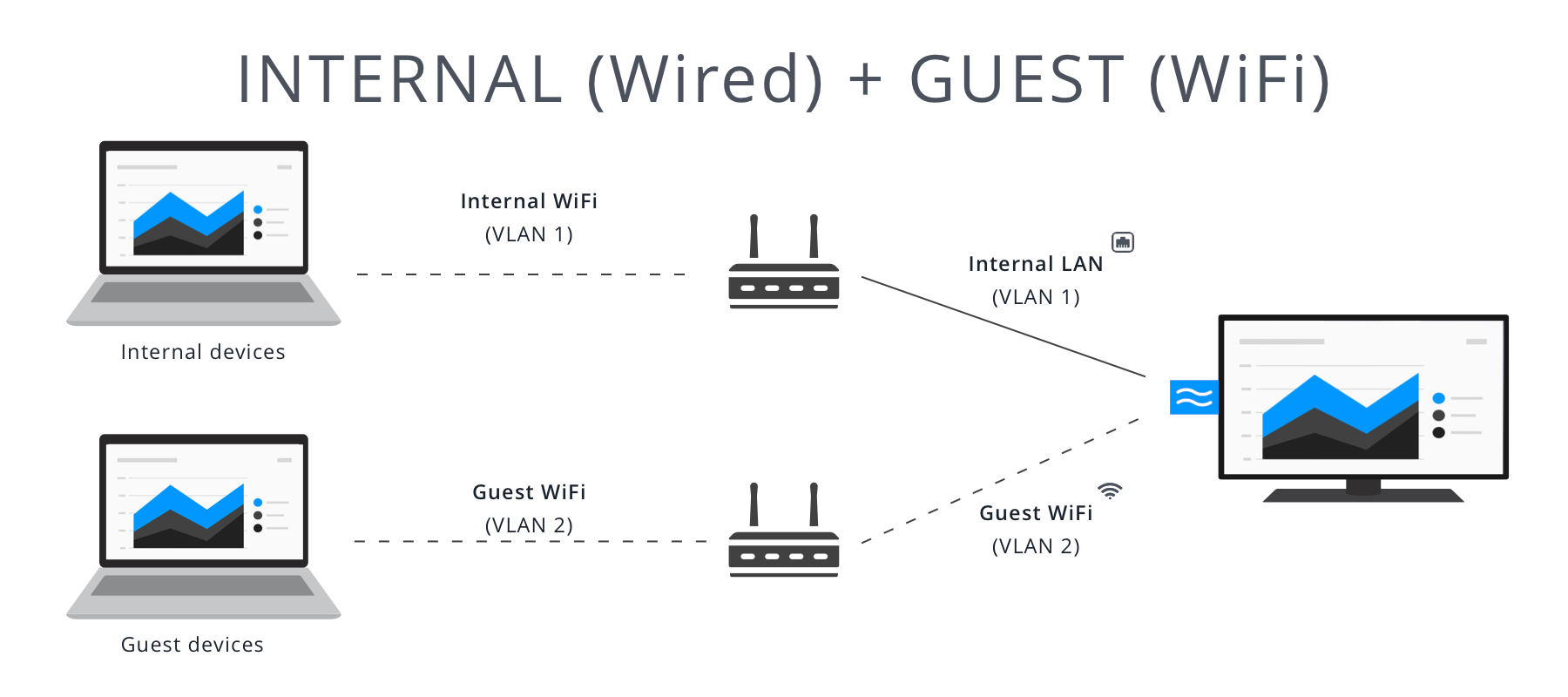 Open the device settings.

Scroll down to "Network" and select your guest WiFi.

Type in the password for that network. Portal login WiFi's are not yet supported by Airtame.

Click "Apply Changes."