All new Cloud users will automatically get a free 14-day trial of the Airtame Cloud Plus after registering on airtame.cloud.
All user roles are allowed to start a trial, but if you would like to update to Airtame Cloud Plus, you should contact your Cloud organization owner, whose email you can find in the Team section. After the trial period, you might want to continue using some of the Airtame Cloud Plus features and that will require purchasing seats for your Airtame devices.
Below are the three options for purchasing your Airtame Cloud Licenses. If you would like some assistance, you can contact our Sales department or get in touch with your Account Manager. Your account manager can help with these payment methods and also special pricing for accounts with over 50 Screens.
The first option is to go to the Screens tab and follow this link 'Upgrade to Airtame Cloud Plus' or through the bottom left corner tab, in Plan & Billing, and then Change subscription.
Please note: It is only the Cloud organization owner who can purchase seats and this message will be greyed out for users with other roles.
This link will then prompt you to fill out the form with the following information:
The number of seats you would like to purchase

Choosing yearly or monthly billing

Billing information and credit card details

After filling this out, a payment summary will be shown, where you can approve the transaction and your subscription will be activated immediately after it is completed.
You will also receive an invoice to the email address that was inserted in the 'Billing email' field during the check-out process.
Payment by invoice
The second option is to contact our Sales department and get in touch with one of our Account Managers. This is a great way if you would like to pay via an invoice.
When you have purchased your Airtame Cloud Plus subscription via a contract, you will need to activate Airtame Cloud Plus for the Airtame devices on the service start date, meaning the date that your subscription is set to start. The service start date will be agreed upon in the contract and we will notify you before the service start date.
Another way to purchase Airtame Cloud Plus seats would be to contact a reseller in your area. This is a convenient method if you already have a preferred reseller located in one of the countries listed.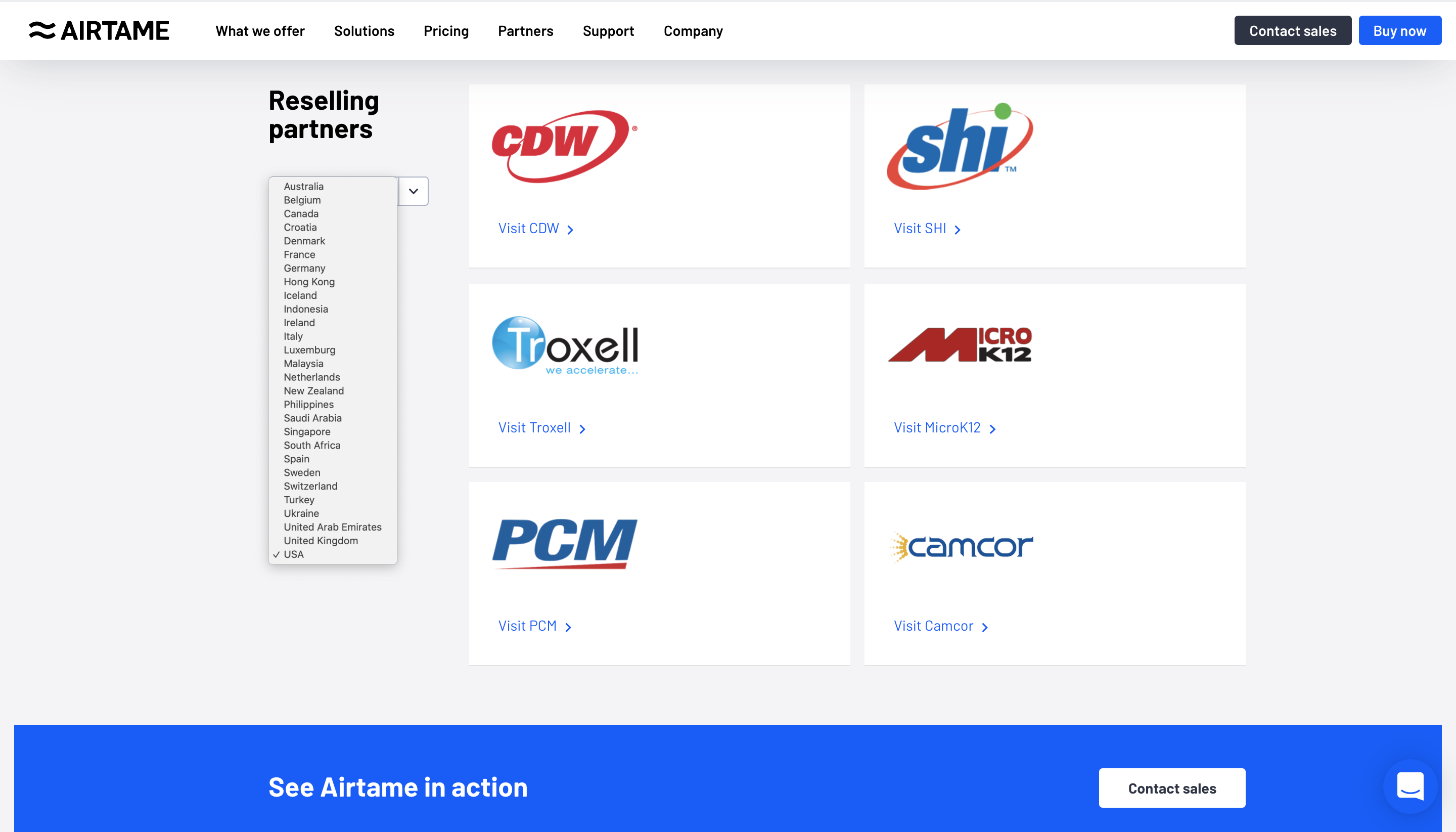 Manage your subscription
You can manage your subscription in the Plan & Billing section of the Airtame Cloud, which can be found in the bottom left corner under your account:

Under the Billing section, you can monitor your previous payments, as well as download previous invoices for each payment.
Under the Assign licenses section, you can manage your Airtame Cloud Plus devices and choose which Airtame devices have the Airtame Cloud Plus features. You can learn more about that in our article about Managing Airtame Cloud Plus devices.
You can also change your Airtame Cloud Plus plan by changing the number of devices (less or more) and changing the billing information.
Upgrading to a larger number of devices will calculate the price according to this formula: Number of new devices X Time left in subscription.
Downgrading to a smaller number of devices will restore a sum in the customer's account based on the number of decreased devices and the time left in the subscription. This sum can later be used when either upgrading or renewing the subscription (within the period).
If you wish to cancel your Airtame Cloud Plus subscription, it will be canceled at the end of its period - at the end of the month or year, depending on which billing plan the user chooses. The user can continue using their subscription until the period end is reached.