Open your Airtame Cloud account or create one at airtame.cloud

The Airtame device needs to be updated to firmware version 3.8.0 or later.
Check out how to update.

Select a device and go to "Edit Settings"

Enable Google Cast.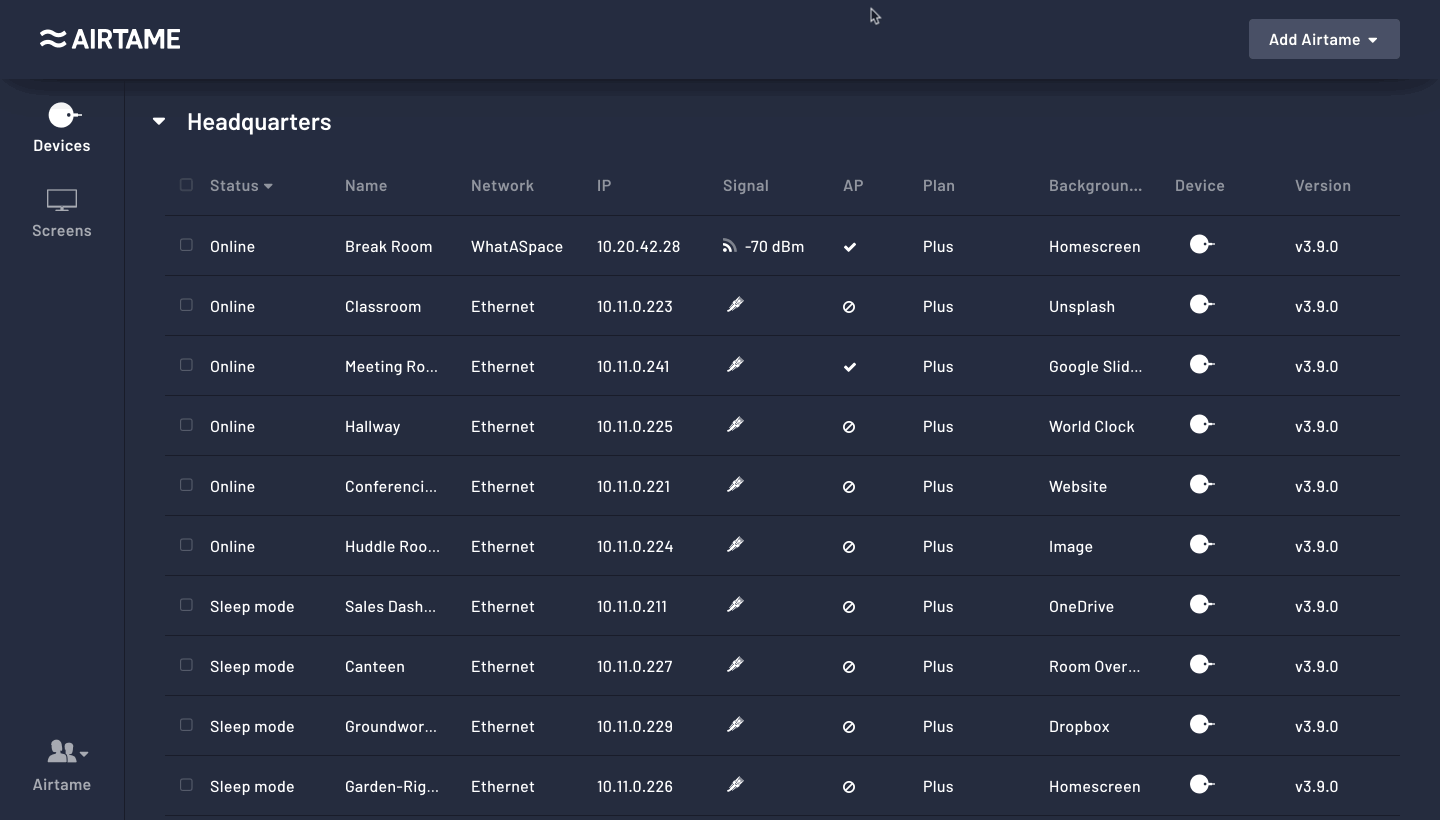 2. How to stream with Google Cast

You can check our short tutorial on how you can present with Google Cast


3. How to stream with Google Cast from a Chrome browser:
Open Chrome.

At the top right, select More (the three dots in the upper right corner of your Chrome Browser) and then click on "Cast".

Choose whether you'd like to share your current tab in Chrome (Cast tab) or your whole screen (Cast desktop)

Select the name of the Airtame device. When you are done and wish to stop sharing select "Stop".
4. How to use it on Android devices:
The steps to mirror from your Android might vary depending on your device. The most common ways are either by using "Smart view", "Screen mirroring", "Quick Connect" or through the Cast settings on your phone.
5. Network requirements:
Google Cast is using the following ports:

Bonjour services: _googlecast._tcp

Google Cast relies on Bonjour mDNS for discovery.
You can learn more about How to manage Multicast traffic.

4. Performance:
Latency for Google Cast on AirServer is around 650 ms under good network conditions.

Maximum bitrate can be as high as 20 Mbps but average bitrates will be significantly lower.

Most Android devices encode Google Cast at a resolution of 720p at 30 fps, but Chrome OS and casting from the Chrome browser as well as a few devices offer higher resolution.
5. Known issues and limitations:
Google Cast will only work on Airtame 2.

We support Android 8 and up.

Some phones require the Google Home app to cast - How to cast from Google Home app.

No PIN code support. Google Cast does not provide PIN code support therefore PIN will need to be disabled or Pin override has to be enabled as well.

Chrome OS version 74 or newer might not find Google Cast as a casting destination. Check this article for troubleshooting.

Most devices will not transmit video protected with Digital Rights Management (DRM) such as Netflix for copyright and legal reasons, however is device vendor specific and is a limitation set by the content providers.

Samsung specific features "Smart view", "Screen mirroring", "Quick Connect" and others are using Miracast protocol therefore will not work with Google Cast.

If you stream a Chrome tab from a browser/ChromeOS and navigate to e.g. YouTube.com the connection will drop, as the computer initiates a media-playback session, which is not received by Airtame. However, if you start the mirroring session while being on the YouTube domain already you can successfully mirror YouTube from your laptop.

Google Cast on Airtame does not support casting from within the application (by pressing the Chromecast button). This means Airtame will not show up as a casting destination within the Youtube, and Facebook apps. Users can still access this content by sharing the full screen.