AirPlay lets you present to Airtame without the need for the Airtame app.
How to enable AirPlay on your Airtame 2 device
Requirements
For Airtame 2 to support native AirPlay, the device must be running firmware version 4.2.0 or higher.

Bonjour needs to be enabled on your network in order for AirPlay to work. This normally entails enabling Multicast Mode and IGMP Snooping.

For networks with multiple VLAs, getting AirPlay to work across all of them requires some extra administration. Required steps vary depending on the network equipment vendor, but some basic guidelines can be found in this article.

The ports used by the AirPlay receiver (i.e. the Airtame device) are:

Note that "..." means that if this port is not available the next available port is used.
Considerations
Media playback/casting is supported via AirPlay, with the exception of content protected by digital rights management (e.g. Netflix).

Streaming via AirPlay is supported at 30fps, but this depends on the bandwidth available on your network. When casting video content, the video timecode progress bar might not be reflected.

If you're getting an AirPlay pin code request, but the Airtame device is not displaying a pin code, please check that you have the AirPlay outgoing requests pairing password enforced toggle setting disabled. This setting is usually part of a Device Management (MDM) profile that is added to and configured on iPhones and iPad. This is accessible by going to Settings > General > Device Management > Profile Name. It's generally used on iOS devices that are part of a corporate environment. Disabling that setting in the profile should allow you to use AirPlay with Airtame without a password prompt.
Steps to enable AirPlay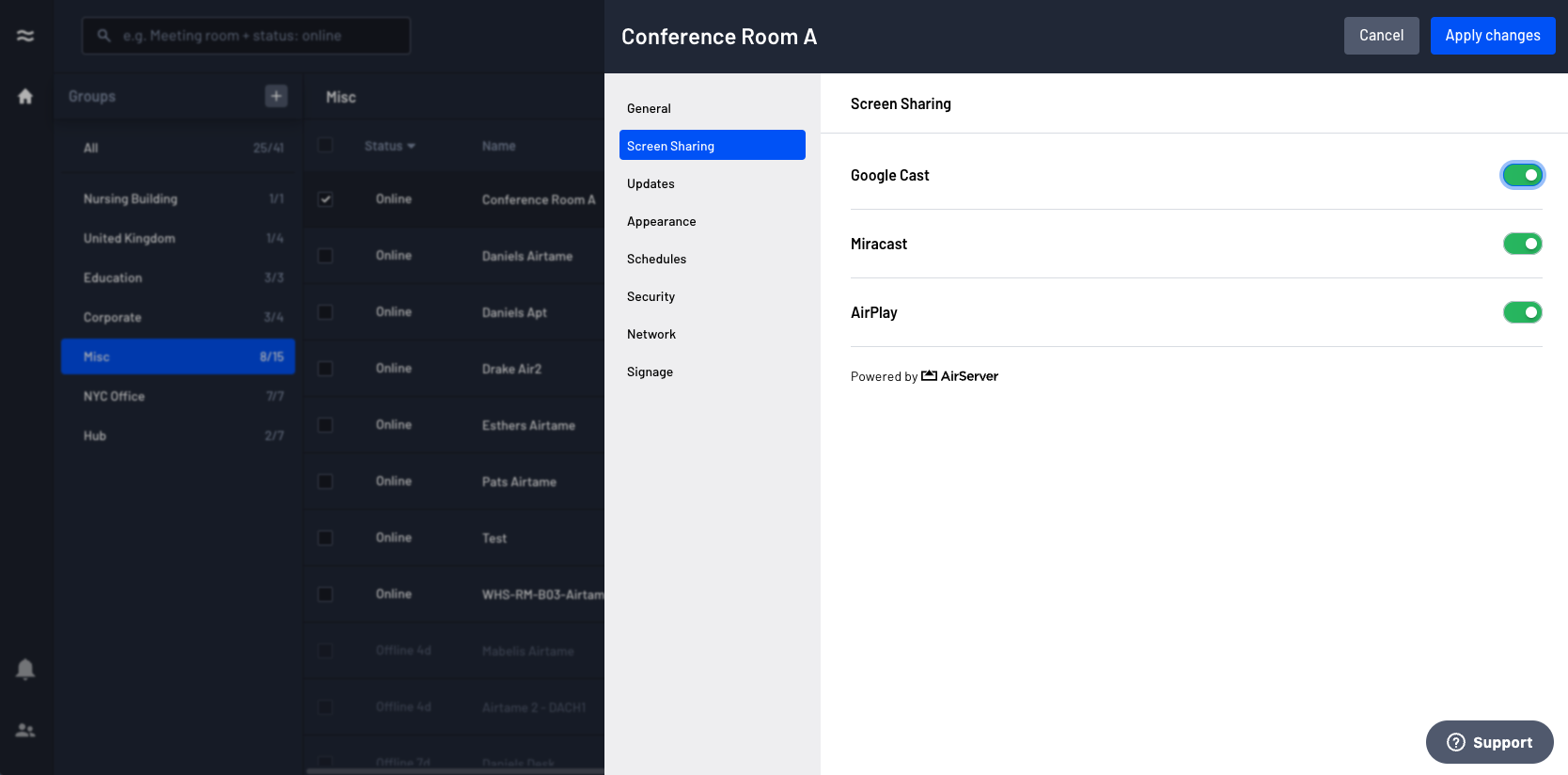 Log on to your Airtame Cloud account.

Select one or multiple devices and hit ⚙️ to open the settings.

Select "Mirroring" from the menu.

Toggle on AirPlay

Click "Apply changes".
Present with AirPlay from a macOS device
On your MacBook, click on the AirPlay icon in the menu bar at the top of your screen. If you don't see the icon, go to the Apple menu > System Preferences > Displays, then select "Show mirroring options in the menu bar when available."

Click on the name of the Airtame from the list.

To use Airtame as a second display, click in the menu bar, then select "Use As Separate Display".

To stop presenting with AirPlay, click back in the menu bar, then choose "Turn AirPlay Off".
Watch this video for further instructions: Present to Airtame with AirPlay
Present with AirPlay from an iOS device
On your iPad, swipe down from the top-right corner of your screen to open the Control Center. On an iPhone X or later, swipe down from the top-right corner of your screen. On an iPhone SE (2nd generation), iPhone 8 or earlier, swipe up from the bottom edge of any screen.

Tap on Screen Mirroring.

Tap on the name of the Airtame from the list.

To stop mirroring your iPhone or iPad, open the Control Center again, tap Screen Mirroring, then tap Stop Mirroring
Watch this video for further instructions: Present to Airtame with AirPlay