The Airtame Hub joins Microsoft Teams and Zoom calls as an external guest user, which depending on the configuration of Teams or Zoom, means that the Airtame Hub will have to be admitted into the meeting from the lobby and be granted sharing permissions.
In order to prevent the Airtame Hub from having to wait in a lobby, meeting policies and settings may be edited by the meeting organizer in the 'Meeting Options' on a per-meeting basis or an administrator can apply these policies to all members of the organization for all meetings.
Microsoft Teams
Administrative Level
In the Microsoft Teams admin center navigate to Meetings > Meeting Settings and then allow 'Anonymous users can join a meeting'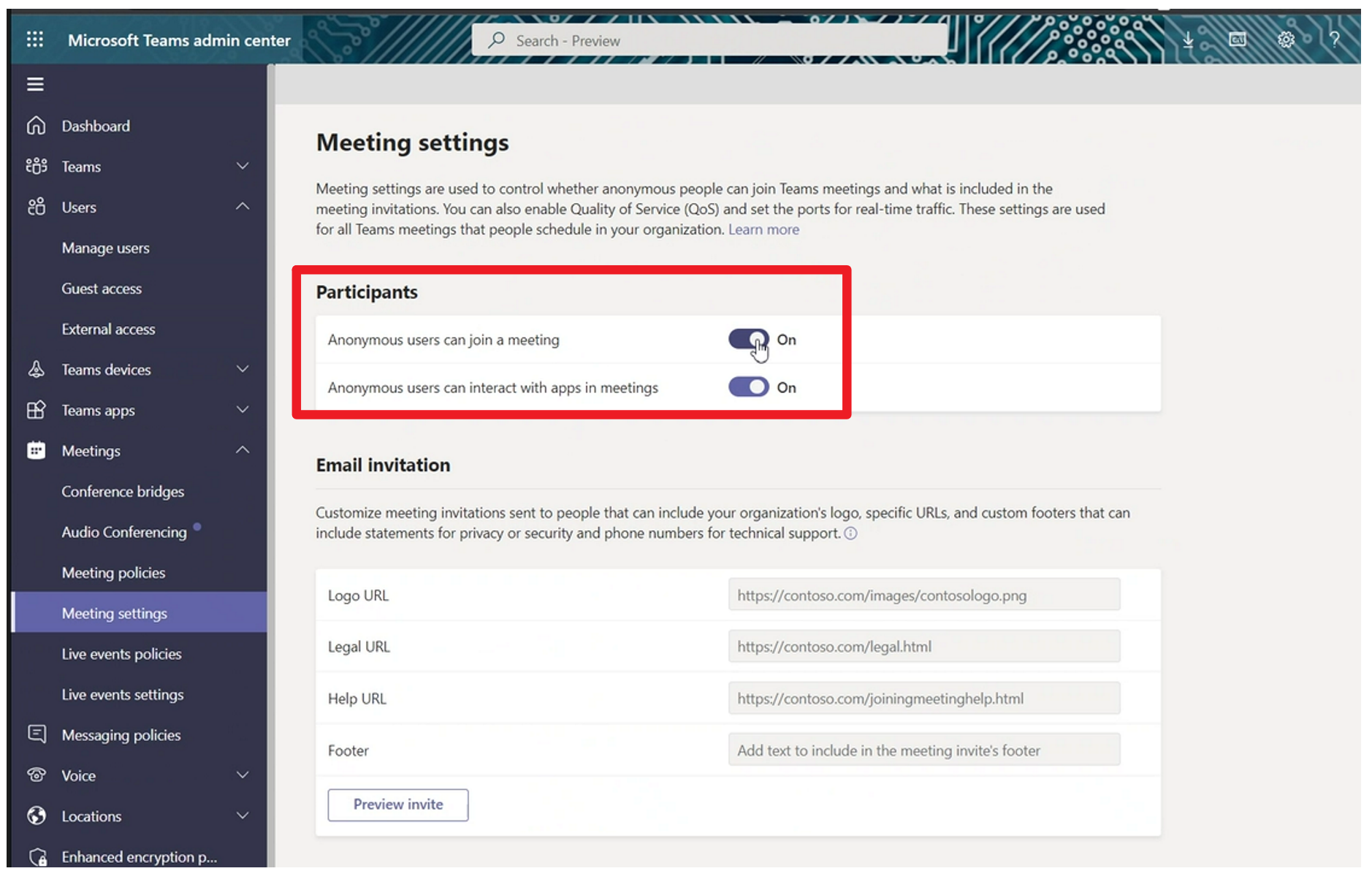 Additionally, 'Let Anonymous people join a meeting' and 'Let Anonymous people start a meeting' should be enabled under Meetings > Meeting Policies.
Here, you will also see that you have different options on who can share content. We suggest you select 'Everyone, but user override,' which will confirm that the Hub will never have to be allowed permission in order to share content, while still allowing meeting organizers to control who shares.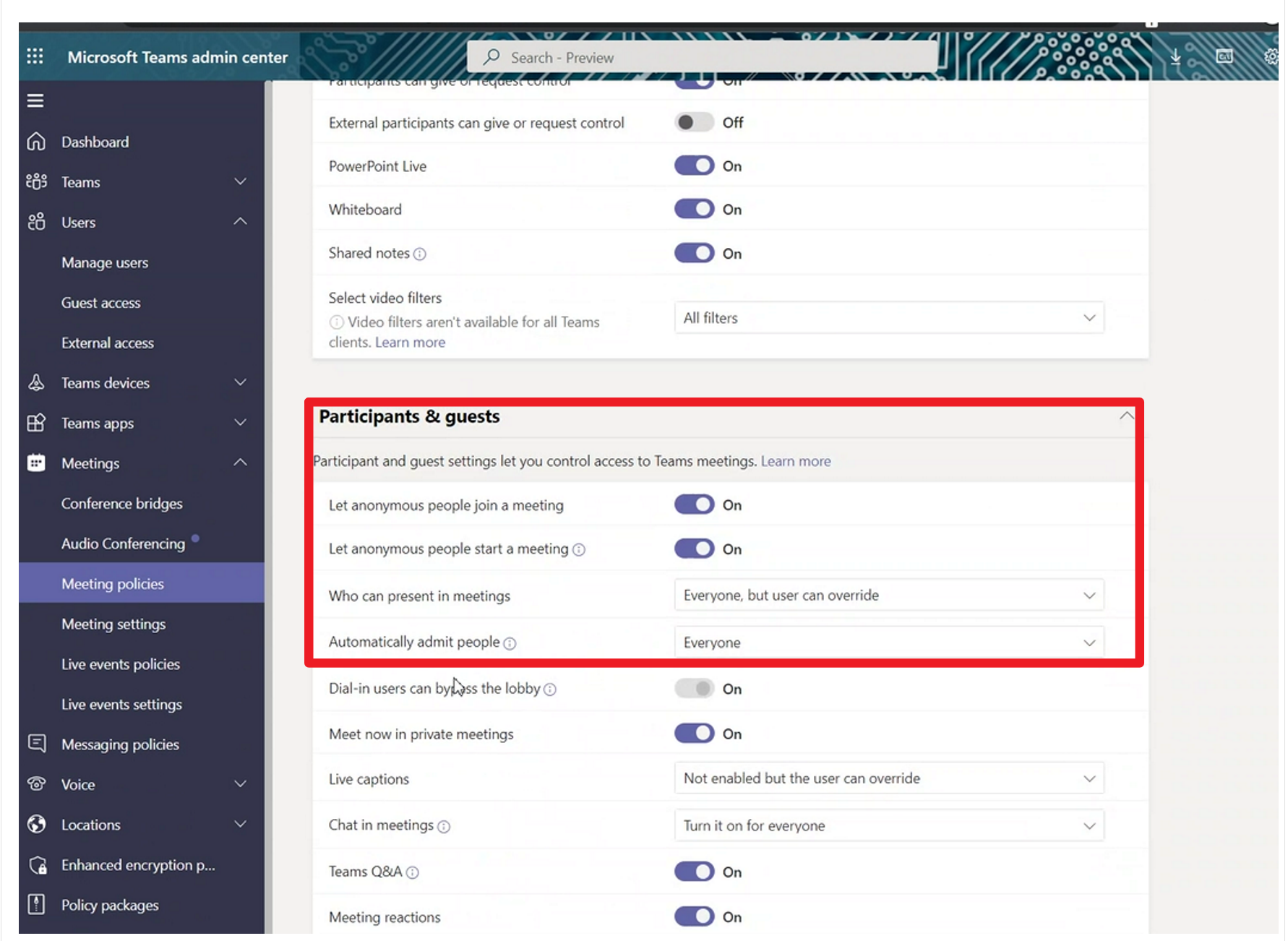 On a more granular basis, an administrator can edit Meeting Policies per user or for organizational groups depending on the policy structure. By default, the Global (Org-wide default) policy applies to all users unless they are assigned a different policy. Within the Global policy, the above-highlighted meeting options for Participants and Guests should be applied. If a user is assigned to a different policy then the same settings should be applied.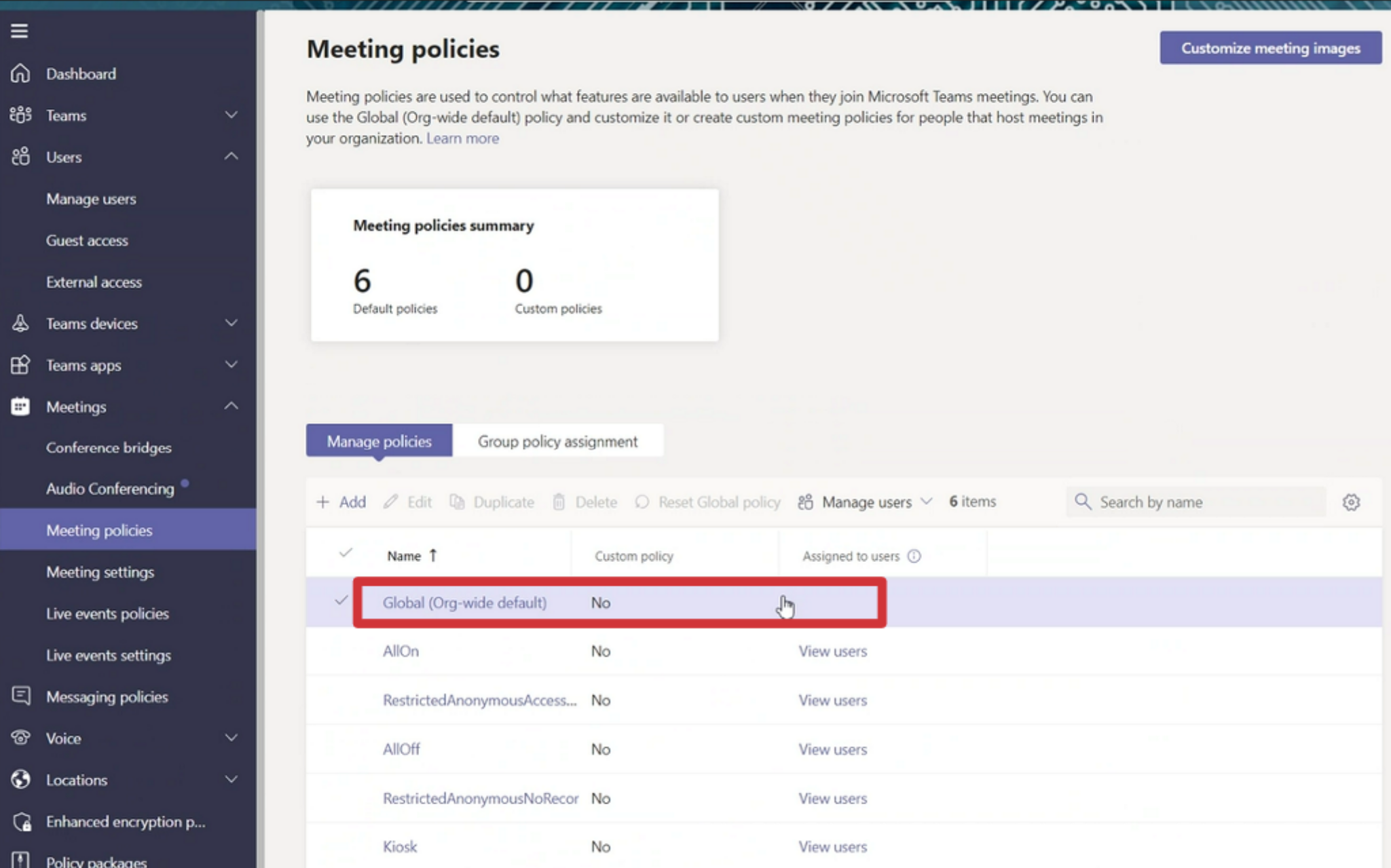 Individual User Level
If the above permissions cannot be enabled at a group level for some reason, individual meeting organizers additionally have the option to change the meeting options to allow for anyone to bypass the lobby, for anyone to present, and allow for attendees to have a camera and microphone.
Meeting options may be accessed after a meeting link has been created. Meeting organizers will see a hyperlink to 'Meeting Options' within the calendar invite itself.
Please note that an individual user can implement the below in order for a user to join a meeting that has already started, however, the Global policy they adhere to may still not allow a Guest to start a meeting. This has to be edited in the Teams Admin Center if the Hub must start the call, however, if other users are on the call this won't be an issue.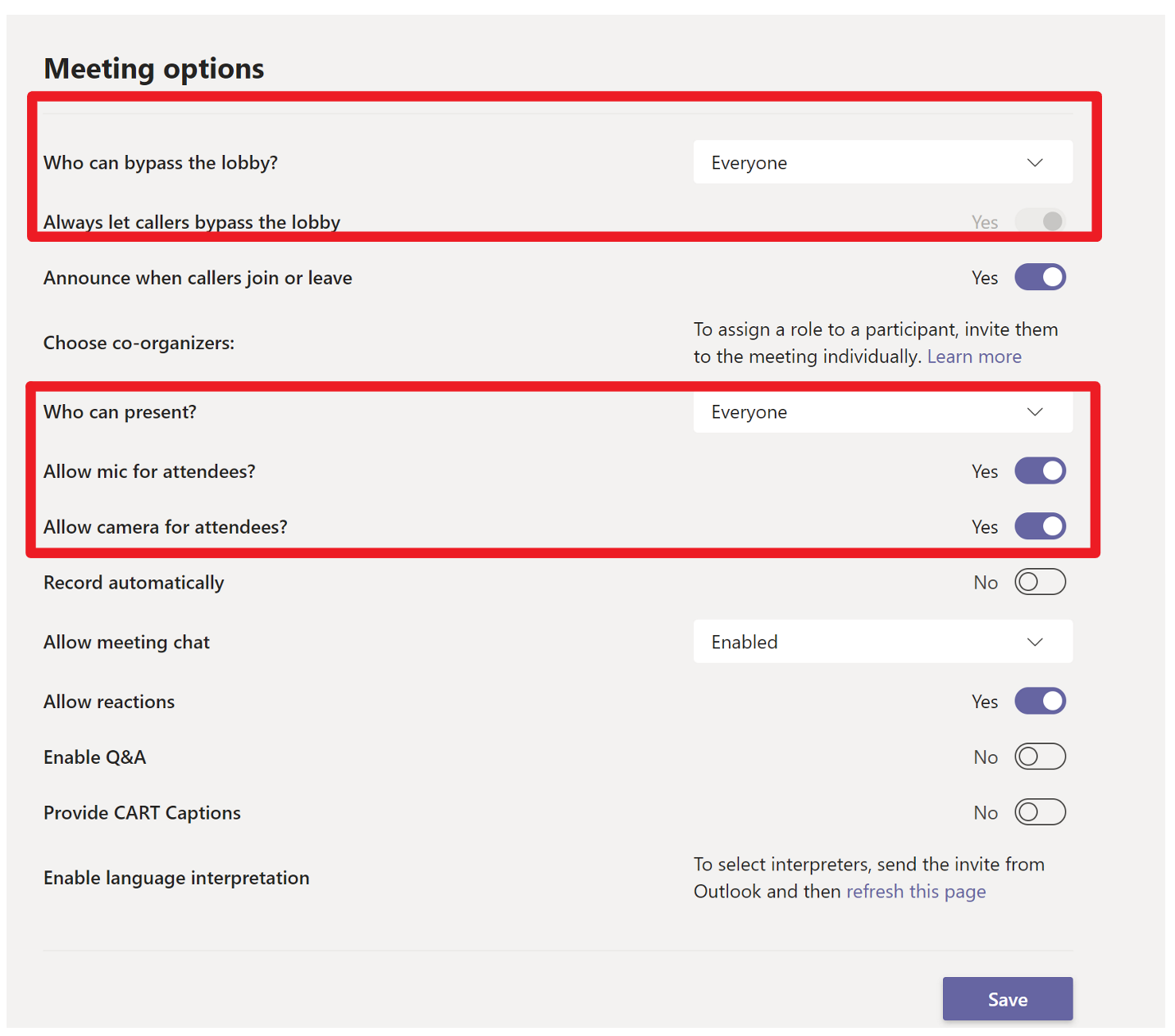 Zoom
Zoom has several security options that can be enabled including a waiting room, meeting passcode, only allowing authenticated users, and/or allowing users with a link. The suggested setup for a seamless experience with Airtame Rooms would be to have the Waiting Room disabled.
To access the meeting settings navigate to Settings > Meeting > Security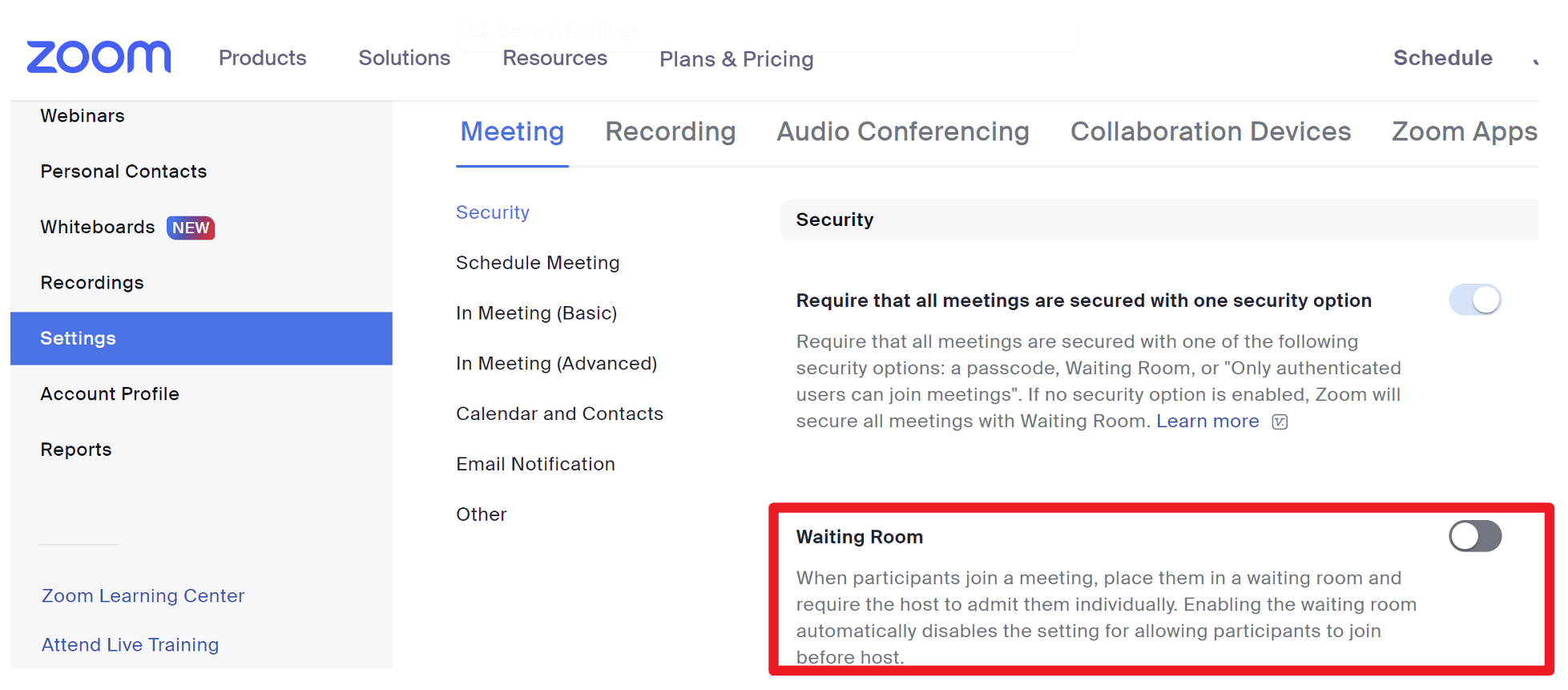 'Embed passcode in invite link for one-click join' should also be enabled as shown below. This means the meeting passcode will be encrypted into the meeting invite link and when users have chosen to integrate their calendar with the Airtame Application they will automatically be able to join their meeting as Airtame Rooms utilizes the same encrypted meeting link sent to the user.
Additionally, it is recommended to have 'Only authenticated meeting participants and webinar attendees can join meetings and webinars,' disabled to prevent Airtame Hub from being able to join the call.

For Airtame Hub to always be able to share content into the meeting, 'All Participants' should be selected under Settings > Meeting > In Meeting (Basic) > Who can share?

By default, Zoom does not have host and participant video turned on. In order to avoid manually turning on the camera in the Airtame App, Zoom meeting settings may also be configured so that by default the camera is turned on for all participants.