Each device has its own settings panel since each device can have different configurations. If you can't access the device settings:
Note that these configurations are separate from the App preferences. More information you can find in the article Airtame application.
Access Airtame device settings
Option 1: Airtame App
Open the Airtame app. If your device is not listed, try typing its IP address.

Hover your mouse on top of the name of the device and you will be able to see and access the Settings panel.

Once you are done making changes, remember to "Apply Changes".
Note: You cannot access the device settings if you are streaming to the device, and if you are using a mobile device, tablet, or Chromebook.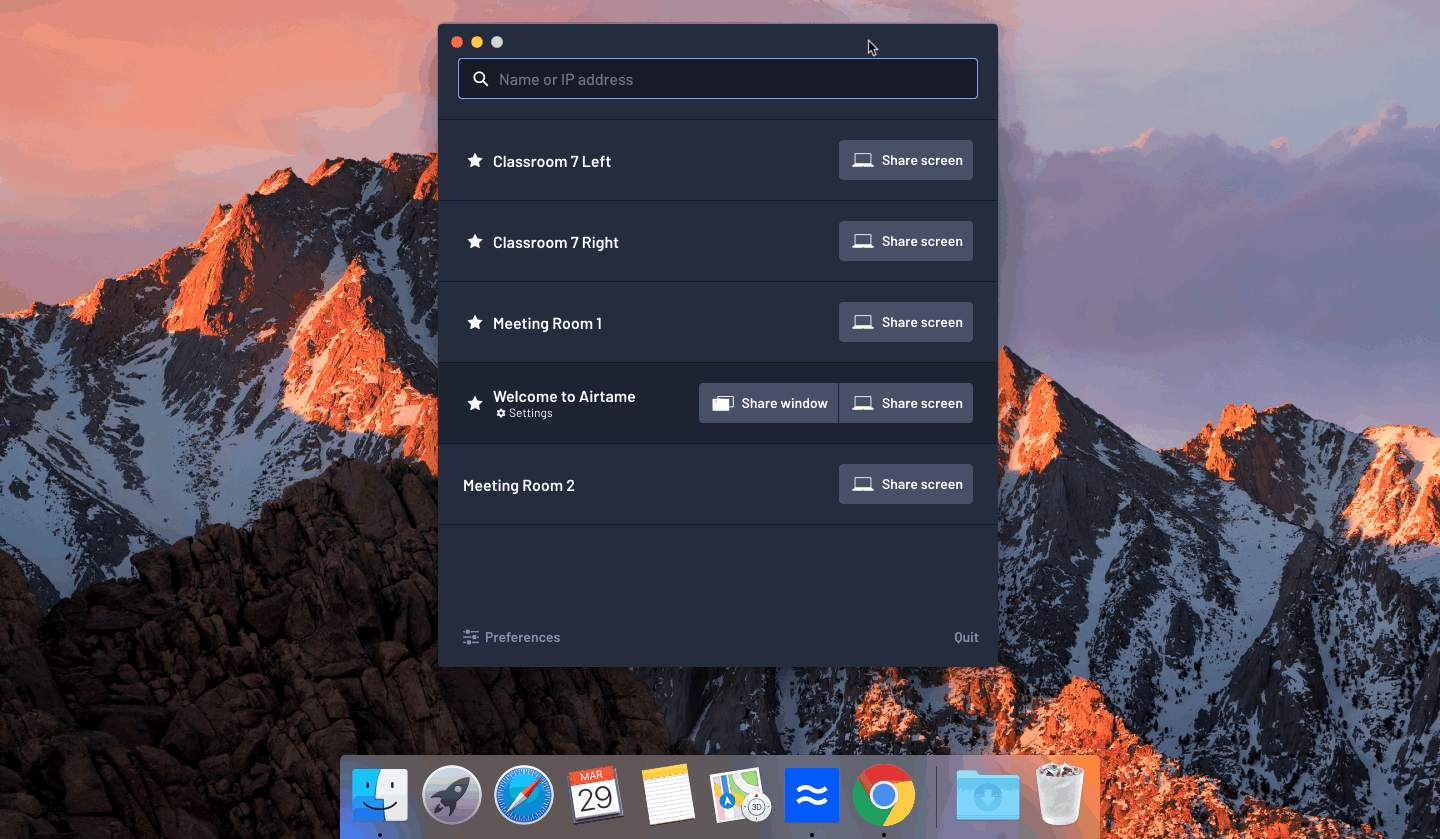 Option 2: Airtame Cloud
Select a device and go to "Edit settings".

Once you are done making changes, remember to click on "Apply Changes".
What can you configure through Settings?
Display:
Settings:
Network: Connect your Airtame device to another network.
Resolution: Change the resolution of the Airtame device to make sure that the Airtame is using the preferred resolution that is compatible with your display.
Peripherals: Select which connected speaker, camera, and microphone you would like to use for video conferencing and streaming
PIN code connect: With this function enabled, the Airtame device displays a random 4 digit code that the user needs to enter in the app to start a stream.
Override pin code: If PIN code connect is enabled, this also needs to be enabled to make sure that mobile devices (phones/tablets) can stream to Airtame.
Password protection: Set a password to access the Airtame device's Settings.
2.4 GHz / 5 GHz Access Point: Turn on/off the Airtame's own Access Point (SSID).
AP Password: If the 2.4 GHz / 5GHz Access Point is enabled, with this function you can set a password to connect to Airtame's own Access Point (SSID).
Download the log files: Useful for troubleshooting issues with our support team.
Updates:
Update your device to the latest firmware, check out here how to update.

Disable or enable automatic updates (If enabled, the device will automatically update after being idle for 15min).